Carol Schexnayder, Bayou Born, Retired Career Woman, Gorgeous Dancer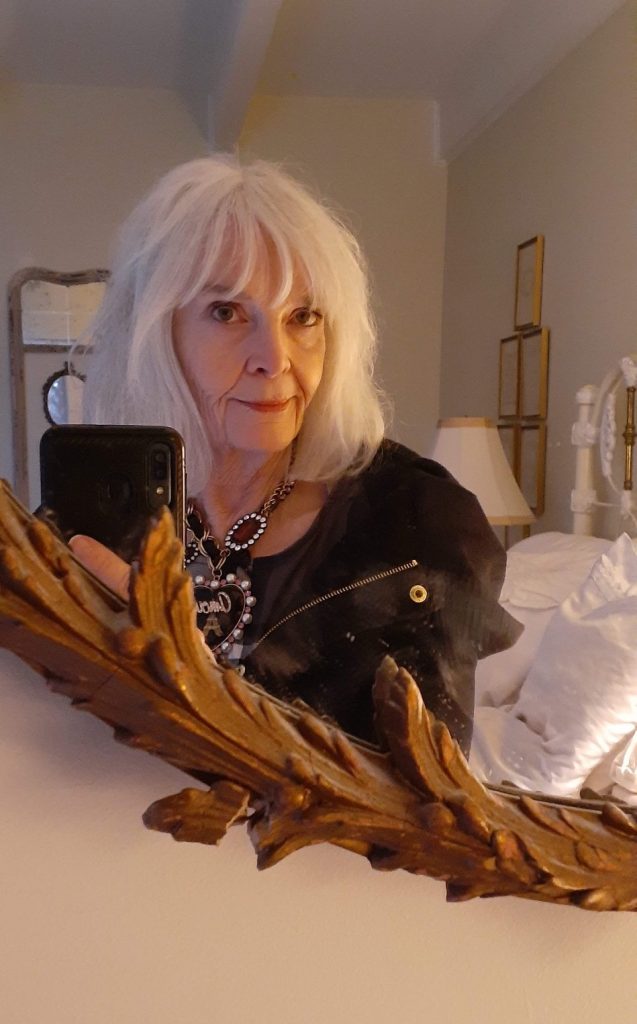 I asked Carol to tell us her story, and she graciously obliged. Her philosophy, ability to adapt and thrive in any situation, and meticulous fashion style has mesmerized our style group since her very first selfie post where she received over 500 Likes! Here is Carol's story…
Let's begin by telling us a little about yourself.
TO THE BAYOU BORN.
Yes Indeed. I am to the bayou born, having arrived to this world at Cairns Clinic located on the bank of Bayou Huffpower where it meandered past my birthing place before it lazily wound itself through the village of Bunkie, Louisiana and beyond where it continued to follow the two-lane highway everyone drove if traveling north or south.  My time on this earth began one year and ten days after the attack on Pearl Harbor.  Since that moment I have lived in the Bayou Country where unique traditions continue to rule the day and quite simply remain a natural part of Louisiana living. These traditions are the essence of my being.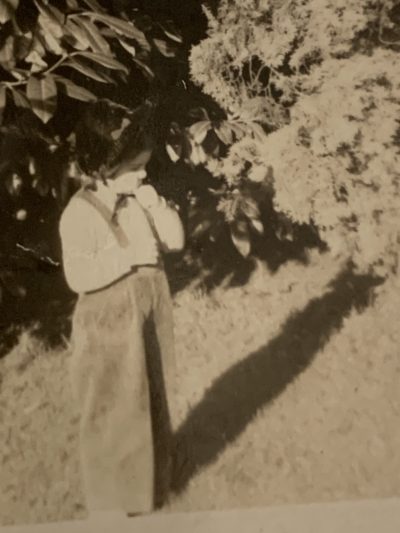 My father was French and English.  As a War Baby my mother, sister, and I resided with his Catholic mother in a community where French influence was dominate.   After he returned from the war, we moved to Central Louisiana to live near my mother's Protestant English family.  That relocation helped me to better understand the distinct differences between the customs and made it easier to adapt to either one.  Now mastering the back-and-forth is only a matter of becoming familiar with a particular place and blooming where planted.
Growing up Southern Baptist was a joyful existence, one where evil never reared its ugly head.  Gracious ladies dressed in starched cotton dresses made sure I learned that Jesus loves me, a core belief that has sustained me to this day.
MARRIAGE AND WORK
My high school years were enjoyable.  I attended college before deciding on a secretarial studies curriculum. After employment with local businesses I worked as a SCB telephone operator and from there accepted a position at an investor owned public utility as secretary to the vice-president of electric production and retired with 25 years of service.
In 1979 I married the Bishop's nephew who owned a partnership in a franchised multi-line automobile dealership as well as a shared interest in his family's sugarcane plantation.
In the late 80s a weekend, by-appointment-only jewelry service was added to my activities.  A source in Baton Rouge who had fab pieces and allowed me to represent them as my own concern. A briefcase, a loop, a set of ring sizers , an empty bank bag, and me.  I worked with referred clients and enjoyed wearing my sponsor's collectibles to events. In 1987 a long pilgrimage to Medjugorje resulted in me being confirmed Catholic.  The next years were so overwhelming my feet rarely touched the ground. My daily commute was 120 miles and all businesses were located throughout the state. My life was moving much too fast. In 1991 I found myself alone but continued to work until opting for early retirement in 1998.
Tell us what brings you the greatest joy in your present life?
Ballroom dancing, making new friends, traveling, and redoing my condo have occupied my time since then. I've been dancing since 1998. My husband and I took some dance classes and were in a dance club. Social danced as well. Later I discovered a Latin party was just starting up at Hilton Hotel in Lafayette. I told a friend and she and I attended on Sat nites for couple of years before the Cajun dance group learned about it. So we had all these Latinos teaching us how to dance the dance from their particular country. They invited us to their homes and cooked for us. Ever so much fun. We also took lessons in a club in Alexandria. That one is very country western oriented as it is not in the French area of the state…different customs…and that is how I started.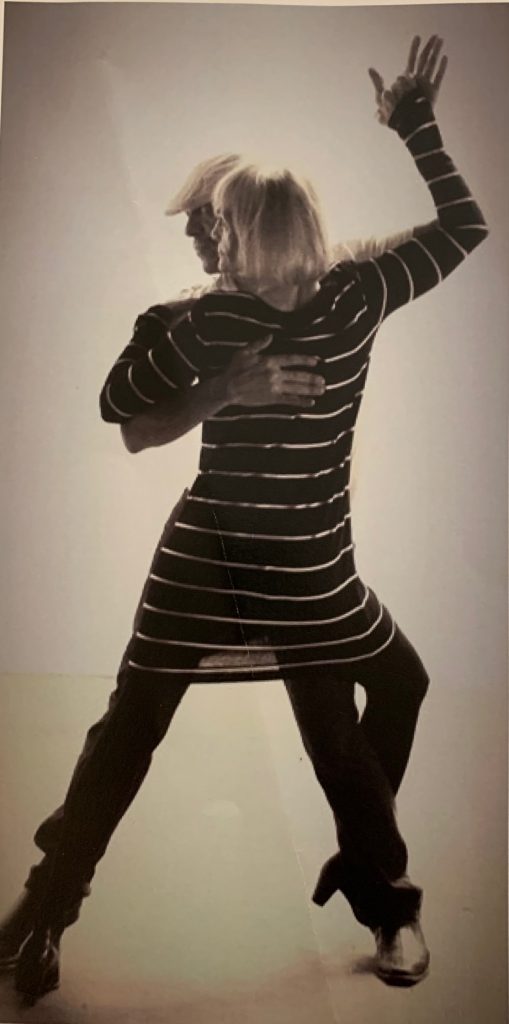 How would you describe your personal style? How has your personal style changed after fifty?
Quite naturally I "wore many hats" during the years as styles changed.  I suppose my style found me rather than the opposite.
My classic style secrets and tips include wearing what suits and wearing it well at the right time; Having colors and body type analyzed; learning something new every year; reinventing yourself every 5 years or so; being the best self you can be every day.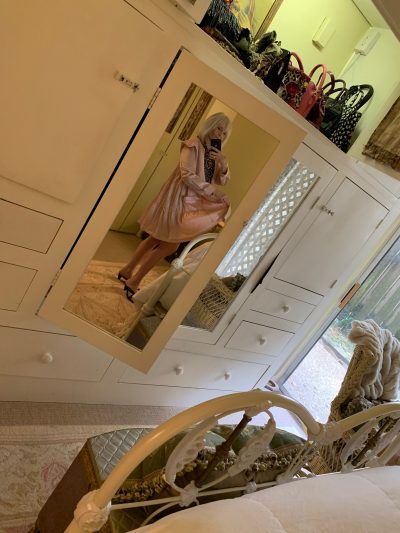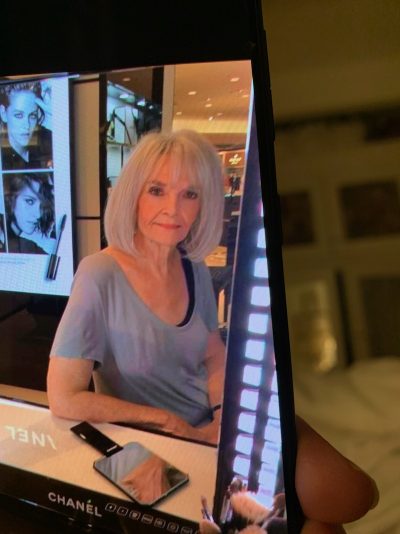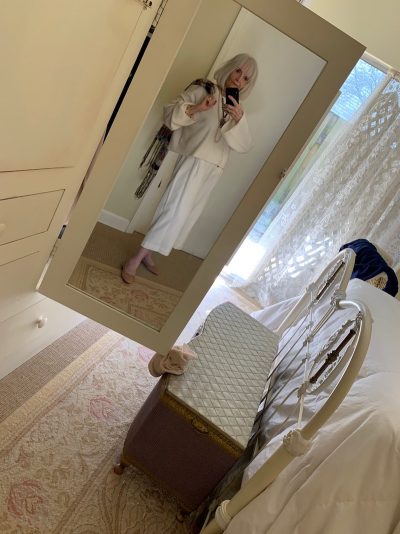 What is your favorite style trick or tip you'd like to share?
Wigs…here are some of my favorite wigs.
Quite by chance, dance studios have several costume parties a year. I always dressed as a witch on Halloween and had dark hair when I began doing that. As my hair became grayer, I still wanted dark hair at Halloween but didn't want to color my hair, so I went looking for a wig.
There is a large beauty supply store here with many wigs. The one you see in a picture (second picture below) where I am wearing the large pendant resembles my own haircut. Very well made and easy to wear. I received so many compliments I continued to wear it. It's very much like wearing a hat. The curly wig is also Halloween. If you look on the dress there is an overlay of a spiderweb. Wigs are fun. A safe, easy way to have a new different cut color style without making a commitment. The minute I put one on I can take on a different persona and energy. Needs different makeup, etc.
I have to be careful not to buy a wig with too much hair. I wear both synthetic and human hair. The cap is light and airy and fits the size of my head. That is important. I've paid an average of 50 dollars. Obviously when dancing where the floor is filled with brunettes and lights are low, gray hair stands out. Some of my friends have remarked, and stopped me mid sentence when I am wearing one on an outing, to tell me they just realized it wasn't my hair! They are used to it now. It has been a positive for me.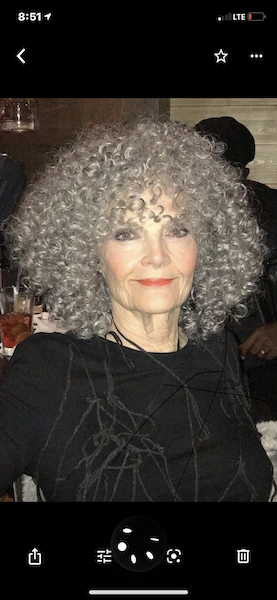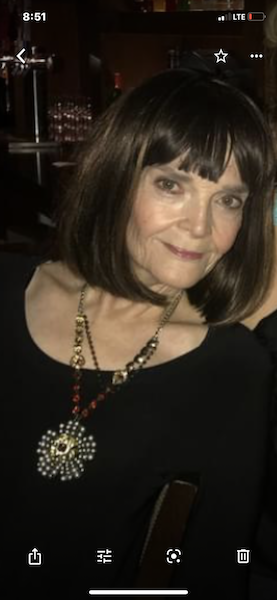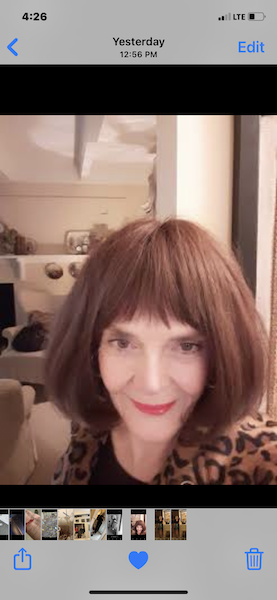 What would we be surprised to learn about you?
I am a Private Investigator!
Please share an inspirational quote or inspirational story to leave us with.
A POEM ABOUT DANCE by Carol Schexnayder
Sometimes I dance because my
Heart is overflowing with joy and happiness.
Sometimes I dance because my
Heart is overflowing with pain and despair.
Sometimes I dance because my
Heart is overflowing with reality that I am entering into the winter season of my life.
Sometimes I dance because my Heart is overflowing with the gratitude for both answered and unanswered prayers.
Sometimes I dance because my Heart is overflowing with belief that my God loves and accepts me just as I am.
Sometimes I dance because my Heart is overflowing with need to express everything I feel without uttering a single word.
Final thoughts?

Thank you Linda Waldon and your incredible team.  Thank you to all the members who have supported me from the beginning. My first post received over 500 comments! I can't imagine waking up to a morning without you lovely ladies.